The data proves it.
TriFuel-238 is about to become the cheapest and most energy-abundant fuel on the planet.
And the profits for early investors here could be out of this world.
As TriFuel-238 takes off and grabs market share from more expensive and less reliable energy sources like coal and solar, it could hand the little-known stock behind this breakthrough a staggering $48.78 billion in revenue per year.
Even if the company claims just a 1% piece of everything you've seen today...
A $3,000 grubstake could see you collect a life-changing fortune of as much as $1,380,564.
TriFuel-238 is expected to roll out this year.
And once the world sees TriFuel-238's incredible potential... the opportunity to get in on the ground floor will be gone.
That's why insiders are making their move right now.
A substantial number of shares have already been snapped up by institutional investors and company insiders.
That's why it's urgent you stake your claim in this tiny company as soon as possible.
I'll show you how in the research report I'd like to give you right now.
It's called "The Undiscovered Tech Company Behind the Coming 'TriFuel-238' Revolution."
And it's yours free when you take a risk-free trial of my monthly research service Energy Investor.
Everything You'll Get With Your
Subscription to Energy Investor
Look, the world of energy is changing.
And there are fortunes to be made as the world embraces new energy technologies.
Which is why when you agree to take Energy Investor for a test drive, you'll get a full suite of investment research, available right at your fingertips, to help you potentially profit from the world's emerging breakthrough energy plays.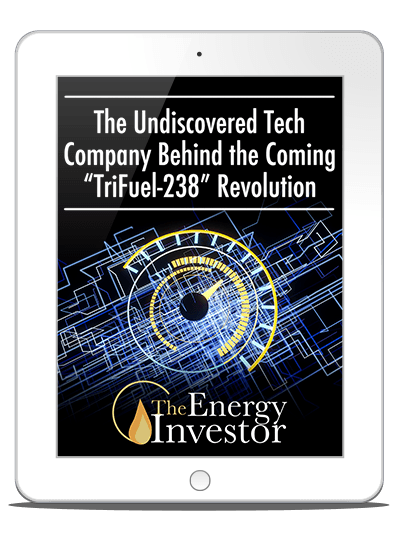 The minute you sign up below, you'll have access to my exclusive special report "The Undiscovered Tech Company Behind the Coming 'TriFuel-238' Revolution."
This report gives you everything you need to know about the company behind TriFuel-238, its incredible energy technology, the arsenal of ironclad patents that protect its position, the genius team behind TriFuel-238, and how its breakthrough fuel could sweep across the world.
You'll also get:
Monthly issues containing AT LEAST one new opportunity to potentially profit from America's booming energy industry.
Investment opportunity updates to help you grow your wealth.
24/7 access to the model portfolio.
Special reports detailing the most urgent and potentially lucrative opportunities.
Access to the Energy Investor archives.
A free subscription to my Energy and Capital e-letter.
A dedicated member services team ready to help you get the most from your membership
But that's not all. You'll also immediately receive two additional FREE reports on two potentially life-changing Energy Investor opportunities:
Bonus Report #1: "The Energy Cloud's Financial Plumbing" — Most investors don't know this, but a $198 billion "Internet of Energy" is about to revolutionize our entire energy grid... as it's rapidly embraced by almost everyone with an electric vehicle, solar panels on their roof, or battery storage solutions in their homes. Already billionaires like Bill Gates, Jeff Bezos, and Michael Bloomberg have invested as much as $1 billion into technology that will accelerate the "Internet of Energy." And with this special report, you can claim your stake on the soon-to-be-everywhere "Internet of Energy" with my No. 1 pick. Right now, investors who get in for less than $1 can ride an opportunity that could soar by as much as 3,000%–5,000%.
Bonus Report #2: "The Billionaire's Battle: How to Invest in the Next Phase of the Lithium Revolution" — Right now the uber-rich, like Elon Musk, Tim Cook, and Warren Buffett are clamoring to grab exposure to lithium stocks... Why? Because they know soaring demand could quite literally "force" lithium prices to soar. My readers have already made one fortune on lithium, with my recommendations up as much as 2,786%. It's entirely possible my readers see ANOTHER 2,786% opportunity from the next big surge.
The total value of the three research reports you'll receive is $297.
The moment you join Energy Investor, this incredible arsenal of wealth-building tools will be yours.
The retail rate for Energy Investor is $249 a year... so that's a total $546 value you'll be receiving today.
But through this special offer, you won't be paying anywhere close to that.
Because today, you can join Energy Investor for only $99!>
That's a full year of Energy Investor at a 60% discount. Even better, you'll be fully protected by my 100% satisfaction guarantee.
Simply become a member today and give Energy Investor a try for a full six months.
Take that time, go through everything you'll receive, and decide if Energy Investor is right for you.
You'll have full membership access the entire time, so you can log into the private members site, check out all the special reports, and view every update I've posted.
If you find Energy Investor isn't delivering, just let me know in the first six months, and I'll refund every penny you spent on the membership — no questions asked.
Any information, reports, and, of course, any profits you received courtesy of my service are yours to keep.
In short: You're risking nothing by trying Energy Investor today, yet you have everything to gain.
But before you dive right in, I want to make you an even better deal...
Start a Two-Year Membership Today, and Get in on the Greatest Energy Transformation of Our Lifetime...
I cannot stress this enough.
I believe a fundamental reshaping of energy is unfolding right now before our very eyes.
It will be a change as transformative as the internet or smart devices.
And like the tech revolutions before it...
I'm certain those who are willing to act could stand to be minted millionaires — even multimillionaires — in the months and years ahead.
I truly believe the greatest investment opportunities of our lives will unfold over the next 24 months...
As innovative energy tech companies rapidly transform the way energy is produced around the world.
Which is why I invite you to join me for a two-year membership and lock in an even better discount.
Plus, I'll also rush you TWO MORE free reports with my top stocks to buy now.
2-year Bonus Report #1: "The Hidden Grid Giant for 10X Gains" — One pivotal company is selling end-to-end solutions to electric companies across the globe. Its services are essential to turn the Energy Cloud into a reality. Yet most people have never heard its name. And with the launch of 5G, its business could grow up to 10-fold.
2-Year Bonus Report #2: "5G-Volta: Retire Rich on the Power Grid's Upgrade of the Century" — Executive Order 13920, signed by President Trump before he left office, demands the U.S. power grid undertake a critical overhaul. And with 32 ironclad patents... one tiny $8 company holds the sole rights to the essential upgrade tech known as "5G-Volta."
It could see you land windfall 40x gains as you play the biggest infrastructure opportunity in over 100 years. If this company captures a mere 0.005% of the proposed $2.9 trillion America is spending...
This tiny tech stock would experience an up to 4,089% surge!
Join me for two years and these extra reports, valued at $49 each, are yours FREE.
Making the total value you could receive here today $893.
But for the next few minutes, you can claim a two-year membership to Energy Investor for $498 just $179 — a 64% discount!
And you'll still get the same six-month, risk-free, money-back guarantee.
Simply scroll down, select the subscription you'd like, and fill out the short acceptance form below, and my team will immediately send over your membership details to Energy Investor and instant access to everything mentioned above, including your FREE special reports.
When you subscribe to Energy Investor with your credit card, you'll be billed that subscription choice rate. Every 12 months thereafter, we'll automatically bill your card for the lowest renewal rate we offer. With this auto-renewal feature, you'll be locking in the lowest available price, guaranteeing that you'll never miss an issue of or a recommendation from Energy Investor. This auto-renewal feature does not obligate you in any way. You may opt out of auto-renewal at any time after this purchase. And you may still cancel within the first six months to receive a full refund. To "cancel subscription" or "stop auto-renewal," simply contact us by phone (877-303-4529) during regular business hours, or online at any time by emailing us at customerservice@angelpub.com, with reference to Energy Investor.