A Cannabis Play With A Secret Weapon
This cannabis junior has only been trading for a few months...
But it already possesses a deadly advantage over most of the sector.
Not only are double- and triple-digit gains practically guaranteed...
...but this stock is virtually bubble-proof
Remember the days when everything worth investing in had a dot-com after its name?
I don't want to refer to it as the dot-com bubble because that term only came into use toward the end...
As we drew closer and closer to that inevitable moment when hope and expectation turned into reality and disappointment.
The reason behind it all?
Irrational exuberance is what it's referred to, and at any given point in history, it's this mental tic, exhibited on a mass scale, that's responsible for keeping some bubble in some sector inflating its way to an ugly and inevitable conclusion.
The cycle isn't hard to understand.
When Mania Subsides
Step 1: An industry reaches a point of inflection, garnering the attention of the investment community and the press.
Step 2: Word spreads. Any company engaged in this new and exciting business model immediately gets attention from anybody with pockets.
Step 3: The industry balloons, and the process builds momentum.
The bubble bursts when investors finally realize the reality isn't what they expected... and that disappointment always comes in the same form: lack of revenue.
You can see the gap between expectation and reality in the chart below.
Notice how the steady, sustainable growth in market cap didn't kick in until it was in sync with profits.
In the end, the reality of the dot-com bubble was that most of the companies just didn't make the kinds of returns investors and analysts had anticipated.
Those who fell into this category died off and will not be remembered. The few that delivered on the promise are still around today, rich as ever.
Today, dot-com has morphed from a bubble into a powerful force that has influence in every corner of every other industry, related or unrelated to tech.
Meet the New Bubble, Same as the Old Bubble?
But we do have another bubble on our hands, and you probably know what it is: cannabis.
If you invest, you've been bombarded by pitches, news articles, and perhaps even rants from your friends who are equally addicted.
Just remember that when it all fails — and this process may have already started — there will be one thing that sets the winners apart from those who die off, not to be remembered: revenue.
Most simply don't have it.
This goes doubly true for the juniors of the sector — the early-stage companies that are still orders of magnitude short of the industry benchmarks like Tilray (NASDAQ: TLRY) and Canopy Growth Corp. (NYSE: CGC).
Public cannabis stocks valued at less than $100 million that are actually making money, as opposed to living from capital raise to capital raise, are the jewels of the sector — and extremely rare.
Strength That's Easy to See
And they've all proven to have one particular trait: an ability to retain value, even during moments of sector-wide decline and market-wide instability, such as the kind we face today.
The chart below tracks the North American Marijuana Index, whose list of constituents includes Canopy Growth and the $6 billion Aurora Cannabis (NYSE: ACB).
The last six months have not been pleasant for the industry, to say the least, as the index lost 47%.
It's too soon to say just yet, but this might actually be a snapshot of the cannabis bubble bursting.
Now, take a look at the chart of a sub-$100 million company along roughly the same timeline.
The company only IPO'd back in May, an event that drew some degree of exuberance, causing the price to balloon to the $2 mark. But when things settled, they settled to a healthy, sustainable $1.80 — or 90% of the price at the peak.
This is while the rest of the market was losing nearly half of its market capitalization.
Think about that for a second...
Canopy Growth is down 33% from its peak.
Aurora Cannabis is down 50%.
Tilray is down 74%.
The index itself is down by almost half.
These are the industry benchmarks. They are the pulse and blood pressure of the sector, and they're getting bled out.
And yet this one newcomer is going strong.
A Future Industry Leader?
The reason for this resistance to sector-wide decline, as always, is revenue.
This Vancouver-based company operates as an agricultural technology, services, and property management company.
Through its wholly owned subsidiaries, it engages all aspects of the cannabis business, from cultivation and extraction to manufacture and retail sale of products ranging from vape cartridges to edibles, oils, and topical creams.
The diversification insulates this company against declines in any single corner of the industry, while the sustainable business model allows for the company to scale up.
Income after taxes is up 60% in the year between March 2018 and March 2019, and the pattern is expected to continue.
While the rest of the industry endures a dot-com-caliber culling, this company will quietly take its place among the leaders.
Five years from now, once the cannabis industry has adopted the same growth pattern as tech did in the post-bubble years, this company could emerge as a household name.
In a few minutes, you're going to get the full low-down on this lean, mean, profitable cannabis firm.
But first, let's quickly review just how this cannabis bubble formed in the first place.
#1 Rule for Getting Rich in Stocks:

Start Small
So how do I know that this company is about to break the cannabis sector mold?
Because that's my job.
If you take a look at my portfolio, you'll see positions from a variety of sectors and industries.
As you can see from this small cross-section, there's a miner, a lithium exploration firm, a gaming company, a tech enterprise, and even a tobacco farmer.
My point is that like many other investors, I'm an advocate for diversification.
But once in a blue moon, an opportunity strikes that calls for going against the grain.
Every once in a while, you'll find a stock that you can't afford to not put a significant sum of money into.
And that's today's company.
Now, I'm not saying you should sell everything and put all your money into this one stock.
I'm just saying you might want to think long and hard about putting in a bit more than you usually would.
And I say that because it's how the 50 richest people on Earth made their money: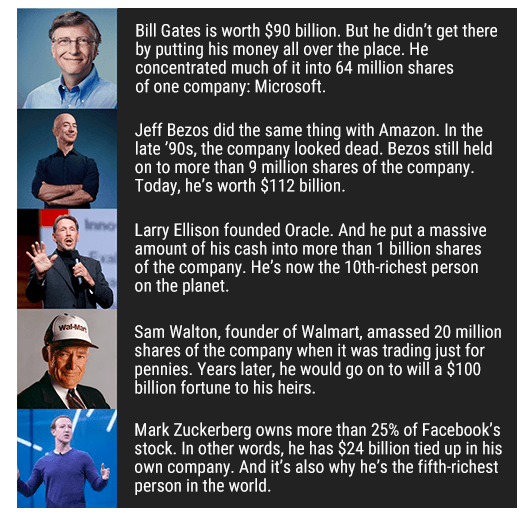 The list goes on.
All billionaires with their fortunes all tied to a single stock.
And yes, these men founded these companies. So it makes sense that they own significant portions in them.
But keep in mind that regular shareholders got rich right alongside these now-famous billionaires...
#2 Rule for Getting Rich in Stocks: Stay Focused
In 1997, a Seattle-based investor named Ron Pearson put $50,000 into Amazon.
It was early on, but he understood the business model and thought it was a good one.
Then this happened:
Amazon's share price went from pennies to almost $2,000 per share:
Ron wasn't the only one, either...
All told, I was able to track down at least 20 people who'd invested in Amazon before it was a household name.
And all of their stakes would be worth millions, even billions, today.
It's a rare occurrence, but this is just like the opportunity that sits in front of you today.
Even a small stake, $500 or so, could turn into hundreds of thousands of dollars.
But that's only possible while the stock still trades for less than $2, which it's doing right now.
By securing your position today, you could easily be part of the next great success story.
Just like early investors were with Microsoft.
From its initial public offering (IPO) until now, Microsoft has generated a return of 98,000%:
And although those returns are incredible, what was even more astounding was the result for ordinary investors from all walks of life.
As the New York Times says:
"While the exact number is not known, it is reasonable to assume that there were approximately 10,000 Microsoft millionaires created..."
These people weren't high-ranking executives. And they weren't part of the group that founded the company.
They were ordinary people who ranged from secretaries to programmers and managers.
They simply had the foresight to put a small amount of their savings into Microsoft before it became a household name.
And today, they're spending their money in a variety of ways:
All thanks to a single stock.
It's the same story with Facebook.
One man, David Choe, was hired early on in the company's history to paint murals on the walls of its original headquarters.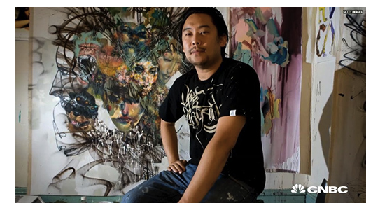 He thought the idea of Facebook was a joke.
But when he was offered the option of taking stock shares over a conventional payment, he opted for the stock — just in case.
This was the result:
According to ABC News, Choe watched as his initial stake in the company soared to $200 million.
Today, Choe gives to charity and mingles with celebrities on the regular.
To say he's living the life of his dreams would be 100% accurate.
Again, it was all thanks to a single stock.
No matter how you look at it, it's a fact.
Just one stock could make you far wealthier than you've ever imagined.
But the chances to do so are few and far between...
And that's what makes today's opportunity so urgent.
I say this because I know...
You Can Get Rich on One Stock — I've Done It
I remember, with vivid clarity, the first stock that ever changed my life...
It was about 15 years ago, and it involved a telecom company.
At the time, I hadn't been trading stocks for all that long. So I turned to several extremely experienced contacts I'd made in the industry.
Every last one of them told me it was a great opportunity.
But I was still a bit skeptical because the company was trading for only $0.06.
However, I'd done my research, and I couldn't find a single reason that this stock wouldn't skyrocket.
So I got together a small pool of capital with a buddy and purchased 200,000 shares.
Over the next few weeks, we watched as the stock hit $0.10, $0.20, and $0.35 per share.
Needless to say, we agreed to sell. And we cashed out for 483% gains.
I walked away with $35,000 on a $6,000 investment...
Within only a few weeks.
Keep in mind that I was in my mid-20s when this happened.
So $35,000 was definitely a life-changing sum for me.
From that point on, I knew I would trade stocks for a living.
And it's paid off considerably.
Since that first play, I've been in on some of the biggest gains of the past decade.
Like when I purchased as many shares as I could of this biotech company:
Or when I put a significant sum of money into this oil company:
But this might have been my most lucrative play:
This was on a basic materials company, and it was a blockbuster.
The company probably seemed too boring to many investors. But I made a killing as shares went parabolic.
I'm not trying to brag here.
I simply want you to see how easily and quickly a single stock can change your life.
You could end up not only making enough money for your own long retirement but also for your children and grandchildren as well.
That's because I've uncovered what could be the next single stock to make people exponentially wealthier.
As of right now, you could secure a sizable position for cheap. And that's because, as I've mentioned, this stock trades for less than $2 right now.
But it won't stay that way for long...
This Company Grew its Revenues by 60% in a Single Year
Keep in mind that the company I'm telling you about today does far more than simply grow cannabis or market cannabis-derived products.
It does everything from cultivation to the development of edibles, topical creams, and many other products now popular with consumers.
Most important, however, is that this business model is proven — the numbers say it all.
Its gross revenues increased 43% from $4.7 million for the quarter ended June 30, 2018, to $6.7 million for the quarter ended June 30, 2019.
Its total net income increased 23% from $1.0 million (USD) for the quarter ended June 30, 2018, to $1.2 million (USD) for the quarter ended June 30, 2019.
Its gross revenues increased 45% from $9.1 million (USD) for the six months ended June 30, 2018, to $13.2 million (USD) for the six months ended June 30, 2019.
Its total net income increased 40% from $2.0 million (USD) for the six months ended June 30, 2018, to $2.9 million (USD) for the six months ended June 30, 2019.
When any company, let alone one that trades for less than $2, shows growth like this so early in its life cycle...
It's all but certain that waves of cash are going to come rolling in, both for the company and for early investors.
And thanks to an inside source that I was able to tap recently, I learned that this company is about to watch a tsunami of cash flood into its coffers.
I'm not at liberty to divulge exact numbers. That was the condition I was given.
But I can tell you this...
Over the next two years, this company could be looking at a 10x increase in earnings.
I'm not talking about revenue here.
I'm talking about actual earnings — the amount of money the company keeps in profit after expenses are paid.
And when the already substantial profits for the company explode, the share price tends to follow close behind.
That's because any company that makes this much money will garner massive amounts of media attention.
Brokers, TV analysts, and journalists won't be able to stop talking about this company.
And that means it certainly won't be trading for less than $2 for long.
I know this because it's happened dozens of times before...
Stocks Like This Have a Habit of Making People Wealthy
You've probably heard of BJ's Restaurants.
The company has 197 locations all over the U.S.
But what you might not realize is that back in 1997, BJ's was much like the company we're discussing today...
It was relatively unknown, a powerhouse of a company, and it traded for right around $1 on the open market.
Of course, back then, most investors had no idea how big BJ's would get.
But those who had a little bit of foresight made an absolute killing:
In 1997, you could have bought 10,000 shares of BJ's for $10,000.
Today, that same stake is worth $757,000 — a gain of 7,470%.
That's certainly an amazing payday, but you could have done even better with shares of Blackberry.
In 2002, they were trading for only $1.47, which was extremely cheap.
But that didn't last for long:
Once people caught on to the tech Blackberry had pioneered, shares screamed all the way up to $138.87.
That's a gain of almost 9,347%, which turned every $10,000 invested into $944,700.
Of course, that's not quite a million bucks...
Which you could have earned if you'd been in early on Monster Beverage Corporation:
Shares once traded for only $0.08 each.
For $10,000, you could have claimed a massive stake of 125,000 shares.
And as the price shot to $8.49 per share, you'd have been sitting on over $1.06 million.
You'd have become a millionaire within only two years on one well-timed play, all thanks to a single stock.
But although these companies are great examples of how a single stock could pay you a fortune...
I'm expecting far bigger things from today's company.
After all, it has its hands in deals all over the world, it participates in several different industries, and it's flush with cash.
But the thing is no one knows about these guys yet. And that's perfect for us today.
Because...
It's the Companies You've Never Heard ofThat Pay Retire-Now Money
Ever heard of a company by the name of NanoTech Entertainment?
Probably not — it specializes in a niche field.
In short, it supplies coin-operated gaming machines to casinos and arcades.
But over a one-year period, its stock handed investors a 21,250% gain:
Imagine if you'd known about this company and put $10,000 into its stock before share prices took off.
You'd be sitting on around $2.14 million today.
Even with only $5,000 invested, you'd have still pulled in over a million bucks.
Heck, even a small stake of $500 would have turned into $106,750.
And NanoTech deals in only a single industry: gaming machines.
It doesn't have the reach, the contracts, or the versatility that the company I'm telling you about today has.
And investors still had the chance at 21,250% gains.
But NanoTech isn't the only under-the-radar company that's made investors rich...
There's also Medifast.
It's a weight-loss company that operates in a market dominated by famous names like Jenny Craig, Nutrisystem, and Weight Watchers.
So most people didn't even notice when Medifast stock paid out 33,877% gains:
That's retire-now money. That's live-the-rest-of-your-life-in-comfort money.
You could have bought 110,000 shares back in the day for only $10,000.
And if you'd done that, you'd have made more than $3 million.
Same thing with a company called Illumina.
It's a biotech company that manufactures integrated systems for the analysis of genetic variation.
Tell that to a friend or coworker, and they'd look at you like you have two heads.
But what Illumina does is crucial. And the prodigious run its stock went on reflected that:
That's a gain of 40,684%...
Which is enough to turn $10,000 into over $4 million.
That's how powerful and profitable it can be when you find an unknown stock that's about to go on a massive run.
These are truly life-changing fortunes.
One of these plays alone could have multiplied your wealth and put you in the driver's seat to a life of financial freedom.
You'd have enough money to live the life of your dreams and still leave a substantial financial legacy for generations.
Of course, it goes without saying that these opportunities don't show up every day.
So when they do, it's absolutely crucial that you take action right away.
Waiting a year, a month, or even a week could mean losing out on thousands, and in some cases millions, of dollars.
And today's company has remained virtually anonymous.
But that's all about to change very, very soon...
Why This $2 Company Is About To Gain National Recognition
It's just hitting the national spotlight right now...
And it's already having a huge impact.
Six months ago, this stock wasn't even public yet... But today, it's rising as one of the stars of the junior cannabis industry.
So the question isn't: "When should you buy shares?"
The question is: "How do you buy shares right now?"
That's why it's so important that you take action right away.
I can't stress that enough.
Once rank-and-file investors catch wind of this opportunity, things could get downright crazy.
And that's why I'd like to send you my latest free report right now: "Lean and Green: The Star of the Junior Cannabis Sector."
Now, the shelf price of this report alone is currently $299.
But I want to send it to your inbox today — free of charge.
In it, you'll receive everything you need to know about this explosive $2 company:
You'll learn exactly why this company is primed for a massive run and why it could be the play of a lifetime for those who take action today.
You'll find out every plan this company has moving forward and how it will steamroll through the legal marijuana market for enormous gains.
You'll discover the masterminds behind this company and how their experience could propel this sub-$2 stock into the stratosphere.
You'll receive the ticker symbol this company trades under.
You'll get crystal-clear instructions on exactly how to buy this company in a regular brokerage account.
If you take action today, you'll be able to get in at the sub-$2 price this company currently trades at.
And because it's so cheap, it'll be incredibly easy to load up on shares and secure a considerable position for a small amount of cash.
Trust me: Getting in early is extremely important.
I continue to harp on this because I've seen far too many people miss out on life-changing gains in the past.
You see, we've been on top of the marijuana industry at Angel Publishing for years...
But this time it's different.
The gains stand to be far bigger than anything we've ever seen.
And you have the chance right now to lock up a huge position on this stock for cheap.
That's why I'm telling you all this today.
I want to get my new, FREE report in your hands right away.
Remember, it's called "Lean and Green: The Star of the Junior Cannabis Sector."
This might be the best opportunity I have — and ever will — come across.
This is a once-in-a-blue-moon event.
And it will give you the chance to live a worry-free life, to never run out of money, and to achieve a generational legacy of wealth.
Now, this might be the "perfect" stock, but it's not the only stock that could make you rich...
I didn't build my entire career on one stock alone.
And I don't expect you to buy just one stock for the rest of your life, either.
Even though today's opportunity could change your financial future forever, there are two additional reports on companies that I'd like to send to you for FREE as well.
Let me briefly explain...
From Startup to Trillion-Dollar Giant
On October 24, 2018, Tesla Motors shocked the world by reporting a profit of $2.90 a share. This was something that critics claimed would never happen.
It was a great day to be a Tesla shareholder and, in my view, a great day for the American automotive industry as a whole, which badly needed this shot in the arm.
Unfortunately, this victory is destined to be a temporary one.
You see, at the core of every Tesla car lies a fatal flaw...
It's not the fault of the engineers. It's not the fault of CEO Elon Musk. It's not the fault of the electric car industry, either.
This fatal flaw is much bigger and farther-reaching than Tesla itself.
It affects billions of devices around the world, from tiny ones like the phone in your pocket to the electric watch on your wrist all the way up to oil tankers that weigh in at half-a-million tons.
It wasn't until a tiny tech startup headquartered in Vancouver, Canada, finally made a crucial breakthrough that this problem was finally solved.
It's created a revolutionary new technology that's about to take the world by storm, and every last detail is in my new report: "Electrified Profits: From Startup to Trillion-Dollar Industry Giant."
Again, this bonus report is absolutely FREE to you today.
I'll send it to your inbox as soon as this presentation is over.
And I'll send it along with your second free bonus report...
The Insider's Guide to the Fastest-Growing Stocks
The question I get asked most is this:
"How do you continually find ground-floor companies that pay such massive gains?"
Well, I can tell you this...
It's actually much easier than you might think.
You see, over the years, I've turned in some massive winners. And I've done it through a scientific system for finding tiny stocks that have the potential to pay life-changing sums of cash.
To give you an idea, my proprietary seven-step system has uncovered stocks like these:
210%

on Versus Technology

128%

on Future Farm Technologies

134%

on BetterU Education Corp.

223%

on Aragon

300%

on Dajin Resources Corp.
And that's only a small sample...
But the point is that I've found these stocks by using a simple system that's gained a massive following in the financial industry.
And I've fielded so many questions on my system that I decided to put it down in writing.
It's called: "Maximum Microcap: The Insider's Guide to the World's Fastest-Growing Stocks."
In it, I run down each step of my system in a clear, concise manner. This way, anyone reading it can immediately begin tapping the market for outsize winners.
And like the previous report I told you about, I'll send you this one for FREE after this presentation.
Each of these reports carries a retail value of $299.
But you'll receive this bundle of reports, valued at $897, free of charge today.
And you'll get everything I just outlined by joining my weekly Penny Stock Millionaire newsletter.
A Modern Society of Wealth Seekers
Penny Stock Millionaire is a letter I put together for times like today — when an opportunity hits that's just too good to pass up.
And what started out as a stock advisory service has grown into one of the most distinguished associations of wealth seekers in the world today.
Together, we take action on small-cap stocks that are primed to explode for massive gains, like the company I've been telling you about today.
The moment you join the Penny Stock Millionaire society, you'll have access to the most powerful and potentially profitable stocks in the world.
That's my goal: to help you get where you want to be financially.
With each weekly issue of Penny Stock Millionaire, I'll share my take on the markets, my top stocks, and what you should be looking to buy.
And as the name of my letter suggests, it revolves around penny stocks...
It will give you the chance to pocket continual gains on the most explosive penny stocks the market has to offer.
It's your chance to grab an extra $50,000, $200,000, and even $500,000 per year without having to put up a lot of money to get started.
Of course, I understand some people think penny stocks are risky...
And they can be — if you don't know what you're doing.
But if you follow the principles we've set at Penny Stock Millionaire, you'll have all the knowledge you'll need to get rich in the markets.
No matter your background or investing pedigree, you can take advantage of my research to crush the market and walk away with tens, even hundreds of thousands of dollars.
And to ensure that I help you succeed, I've put together a resource to help you get started.
It's called: "The Penny Stock Quick-Start Guide."
It's a comprehensive guide on everything you'll need to know to trade penny stocks with confidence.
Normally, I'd charge $199 for this guide...
But I'll include it for FREE with your bundle of reports because I want you to get started as quickly and easily as possible.
So that's THREE reports and the quick-start guide, valued at $1,096.
But they'll all be FREE to you today.
That's not all you'll get, either.
The moment you join Penny Stock Millionaire, you'll be a full member of our club.
So you'll also receive every perk, benefit, and privilege that all my longtime subscribers receive.
This includes...
Weekly Issues of Penny Stock Millionaire: You'll receive every copy by email, quickly and efficiently.
Real-Time Buy and Sell Alerts: In this fast-moving market, opportune buy and sell points can come at any time. And I'll make sure you receive them the moment they arrive.
Specific Entry, Exit, and Target Prices: You'll never have to guess if a stock is a good buy or not. I'll always give you specific entry points, sell prices, and realistic targets for our recommendations.
Complete Research for Every Recommendation: You'll always know exactly why I recommend a stock. You'll know what catalysts to expect and what hurdles to watch out for. This way, you'll be able to invest and profit with confidence.
Access to VIP Service: A subscription to Penny Stock Millionaire qualifies you for VIP service. You can contact the VIP team with any questions at 844-310-4115.
You'll also receive all the FREE bonuses I've told you about:
"Lean and Green: The Star of the Junior Cannabis Sector," a $299 value
"Electrified Profits: From Startup to Trillion-Dollar Industry Giant," a $299 value
"Maximum Microcap: The Insider's Guide to the World's Fastest-Growing Stocks," a $299 value
"The Penny Stock Quick-Start Guide," a $199 value
And remember, even though these reports are valued at $1,096, you won't pay a single cent for any of them.
They're all yours absolutely free of charge today.
Also, keep in mind that I'll be your guide and coach through everything.
As I mentioned before, I've made enough money on stocks to retire if I wanted to.
It's why I've given multiple presentations at the MoneyShow, done countless interviews, and even been asked to write a book.
And my track record backs it all up.
The Penny Stock Millionaire portfolio contains massive winners, like...
123%

on Kush Bottles

95%

on Forward Industries

210%

on Versus Technology

80%

on Alset Energy Corp.

128%

on Future Farm Technologies

90%

on Defiance Silver Corp.

134%

on BetterU Education Corp.

223%

on Aragon

96%

on MCW Energy

300%

on Dajin Resources Corp.
And those are only the start...
As you'll see the moment you become a member of Penny Stock Millionaire, there are dozens of other winners.
And I fully expect today's company, the perfect $2 pot stock, to blow everything I've shown you out of the water.
Remember...
This is only the beginning because this company is just starting to enter the national spotlight...
So it should only be a short time before its share price goes parabolic and pays out life-changing gains.
In short, if you want to secure a virtually endless supply of cash off a single stock alone, this could be your only chance to ever do it.
And I want you to have the best shot at getting in right away...
Which is why I'm giving you the chance to join me through Penny Stock Millionaire at the lowest possible price I'll ever offer...
Only $999 for a full year.
It's the best deal you'll find for the type of research and information I deliver on a weekly basis.
And it's an absolute steal when you consider that it'll get you what's possibly the best stock I'll ever recommend in my career.
Not only that, but you'll also receive a continual stream of the most powerful and potentially profitable plays in the market.
You'll have chance after chance to make real money.
But if the $1,096 worth of free reports, continual stream of explosive recommendations, and chance to secure an endless pool of cash on one stock isn't enough...
Here's what I'll do:
I'll back everything up right now with my 60-day, 100% money-back guarantee.
You'll have TWO full months to check everything out with no risk or obligation.
If you don't think what I'm offering is worth five times the price I'm asking, I'll gladly refund every penny you've spent with me — every last penny.
Even if you make $50,000 and still want to cancel, I'll send you your money back.
So here's my ironclad promise to you.
I simply can't make it any better than that.
Honestly, it's the best deal I've ever given...
Especially in light of what you'll receive the moment you become a member of Penny Stock Millionaire today.
The sub-$2 stock I've told you about today is, without a doubt, the best I've seen in my career.
And that's saying a lot when you consider that I was able to buy a Porsche and put a down payment on a home thanks to just one stock.
And I know I'm repeating myself here...
But there's simply no time to wait.
When a stock trades for less than $2 and is ready to hit the national spotlight, the massive run it's primed to go on could start any day...
And right now, you could secure a massive position with only a small bit of capital.
I'm talking thousands of shares...
In a company that could hit $20, $50, or even $75 within the coming months.
This single company could literally change your life forever.
The time to take action is now.
And you can do so right away when you click the "Join Now" button below.
Sincerely,
Alex Koyfman
Investment Director, Penny Stock Millionaire